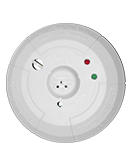 CO Gas Protection
Carbon monoxide is colorless, odorless and lethal - in high levels, it can kill the resident.

Another optional benefit offered by Life Alert to its members is its Carbon Monoxide (CO) gas detection and response system, which further enhances our home monitoring service. This CO gas system, like our smoke alarm system, is monitored 24/7 by live dispatchers. Whether you are home or not, Life Alert can send help any time of day or night if CO gas is detected.

If the Life Alert CO alarm detects a dangerous concentration of the poisonous gas, the alarm will transmit an emergency signal to the member's Main Unit within seconds. The Main Unit then activates its own siren and reports the alarm to its central security station, which immediately alerts the residents and, if needed, contacts the authorities.